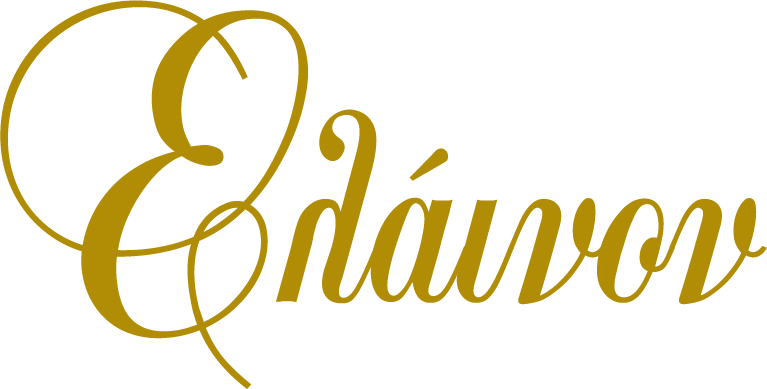 Our brand name is inspired by Greek Mythology; Ηomer, in his [major epic poem] Odyssey, Rapsody (Book) IX,lines 375-385, says that Ulysses blinded the Cyclop Polyphemus using the Elainon, that is, a stake of olive-wood.
Thus we can see that the existence of the olive-tree is inextricably linked, since the Homeric era, with the Greek land and History.
Then verily I thrust in the stake under the deep ashes until it should grow hot, and heartened all my comrades with cheering words, that I might see no man flinch through fear. But when presently that stake of olive-wood [ελάινος] was about to catch fire, green though it was, and began to glow terribly, then verily I drew nigh, bringing the stake from the fire, and my comrades stood round me and a god breathed into us great courage. They took the stake of olive-wood, sharp at the point, and thrust it into his eye;
καὶ τότ᾽ ἐγὼ τὸν μοχλὸν ὑπὸ σποδοῦ ἤλασα πολλῆς,
ἧος θερμαίνοιτο· ἔπεσσι δὲ πάντας ἑταίρους
θάρσυνον, μή τίς μοι ὑποδείσας ἀναδύη.
ἀλλ᾽ ὅτε δὴ τάχ᾽ ὁ μοχλὸς ἐλάινος ἐν πυρὶ μέλλεν
ἅψεσθαι, χλωρός περ ἐών, διεφαίνετο δ᾽ αἰνῶς,

καὶ τότ᾽ ἐγὼν ἆσσον φέρον ἐκ πυρός, ἀμφὶ δ᾽ ἑταῖροι
ἵσταντ᾽· αὐτὰρ θάρσος ἐνέπνευσεν μέγα δαίμων.
οἱ μὲν μοχλὸν ἑλόντες  ἐλάινον, ὀξὺν ἐπ᾽ ἄκρῳ,
ὀφθαλμῷ ἐνέρεισαν·

The Nikolaos Meris Family of Elainon
The Messenian land, besides its history and culture, is world-wide known for its perennial, xeric olive groves and its premium quality olive oil of outstanding taste.
Our village is located in the clearing of the Messenian plain, at the foot of Mount Tetrazi. It is the village of the Meris family, the regal Diavolitsi or Diavolitsion.
The Meris household was a rural family initiated to and taught the secrets of olive-tree cultivation and the respect for it from generation to generation.
The family's grandfather Nikolaos, besides providing his children with adequate education, also saw to it that they inherited the love for the family's olive groves and taught them the secrets of olive-tree cultivation.
"We support and respect nature", he used to say with an air of importance and finality. "We are doing nothing else, we let it offer its goods, we will not show it the way; nature knows".
The Product
The Exceptional Green & Gold Elainon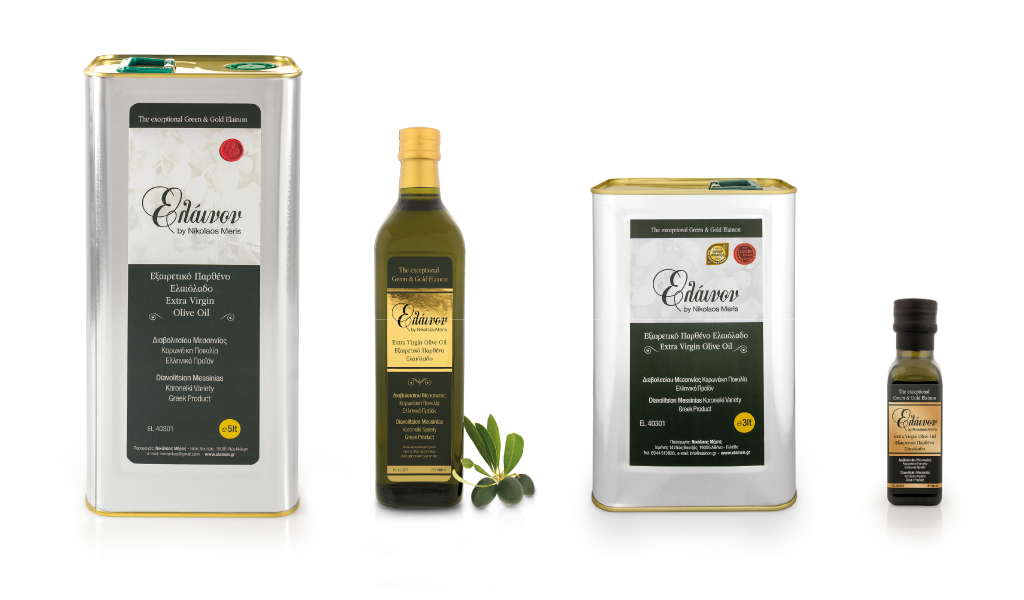 Available in 100ml & 750 ml bottles (6-bottle pack) and 3lt & 5 lt tinplate containers
An exceptional extra virgin olive oil bearing centuries of tradition and quality within its taste.

Product promotion at points of sale and gift packaging.
The Production Methodology of Elainon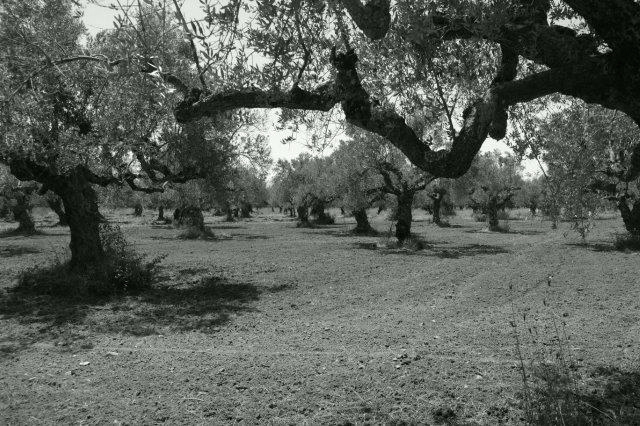 The perennial, xeric coronian variety of olive crop grown at our orchards yields the best result in terms of olive oil quality and not quantity thanks to our continuous, attentive care. All recent years analysis are the proof of it with Elainon's ideal values of acidity and anti-oxidant content (see chemical analysis – Quality).
This is our standard applied to crop- and environment-friendly, traditional cultivation practices, focused in the proper pruning and due ploughing.
By not using chemicals and fertilizers, we make sure of the preservability and quality of antioxidants important for human health, such as polyphenols, tocopherol (vitamin E).
The process of olive oil extraction is crucial for the premium quality of our product, directly connected with the harvesting method, its storage until it gets to the olive press, as well as the time and mode of extraction.
Olives are picked by pruning or shaking the tree branches. Large branches are pruned and immediately go through a sorting machine separating leafs from olives. Remaining olives on the trees are carefully raked in order to remain intact, then sorted from leaves on sheets before they are placed in sacks to be transferred for oil extraction.
The olive press proceeds to properly process the olive crop in order to produce our olive oil. Clean machinery, duration of storage in sacks until extraction, olive paste temperature, that must not exceed 27C, and ultimately the experience of press render the final result: our olive oil, with its quality directly connected to the above practices.
The family of Elainon makes sure that these processes are flawlessly completed in order to produce, in combination with the area's microclimate, our exceptional virgin olive oil Elainon, the oil extracted from coronian variety olives, with a taste and quality that wholly express nature's balance, our scope and compass for the future.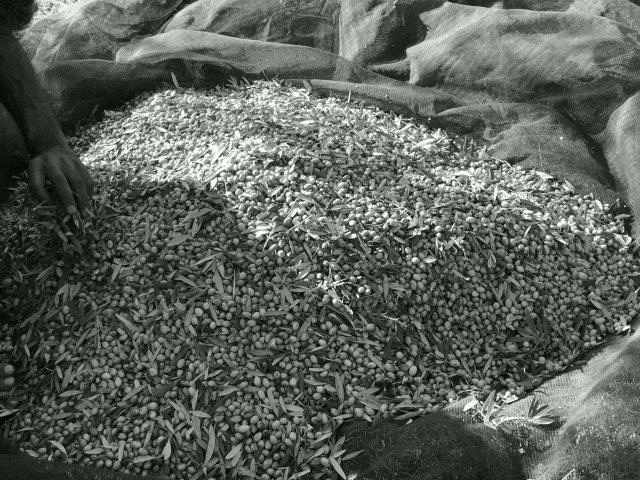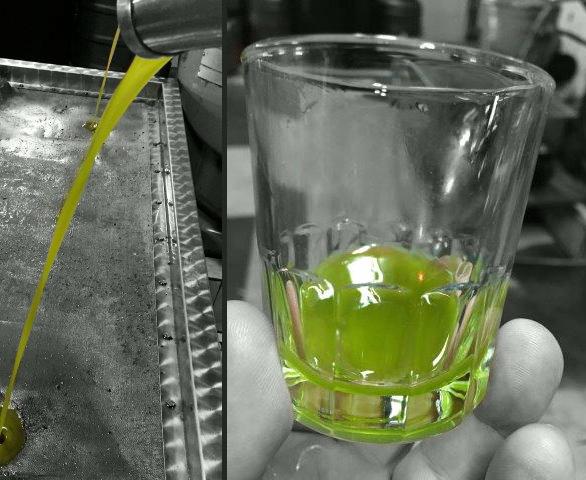 THE EXCEPTIONAL GREEN & GOLD ΕΛΑΙΝΟΝ – ELAINON is standardized in one of the most up-to-date standardizing enterprises of exceptional virgin olive oil in Greece. Its modern facilities, consistent with all necessary specifications and operation permissions, as well as food safety certification (ISO 22000:2005), fully rise to the demands of the strictest standardizing specifications of Elainon; thus we are absolutely certain about the quality and safety we offer you.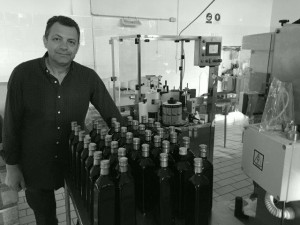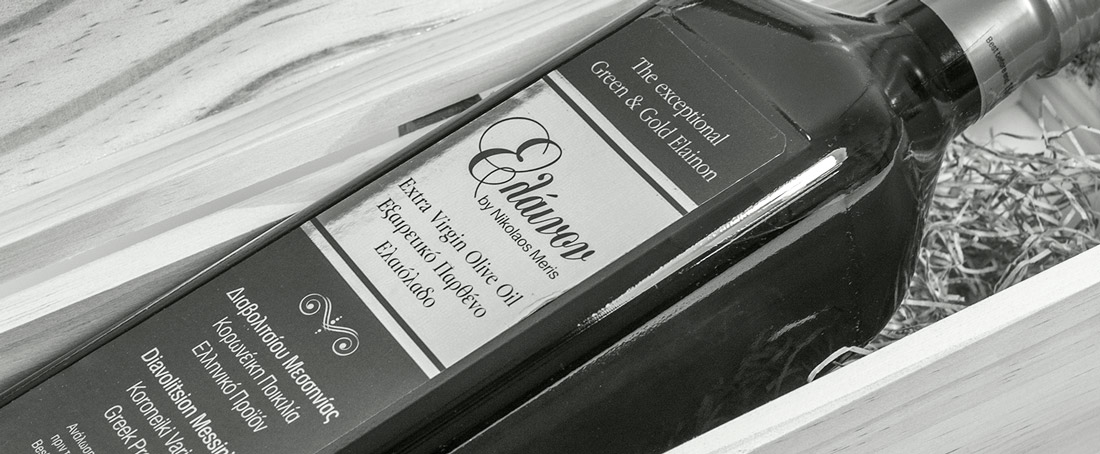 The perennial olive groves of our land -the coronian variety- in combination with the area's microclimate, produce an olive oil of the highest nutritional value and taste that has been proven by related research to be of minimum possible acidity, rich in organoleptic properties, polyphenols and tocopherol.
Elainon's taste is full of the pleasant, fruity fragrance of fresh olives; it has a rich body and a savory, vivid aftertaste without a burning sensation.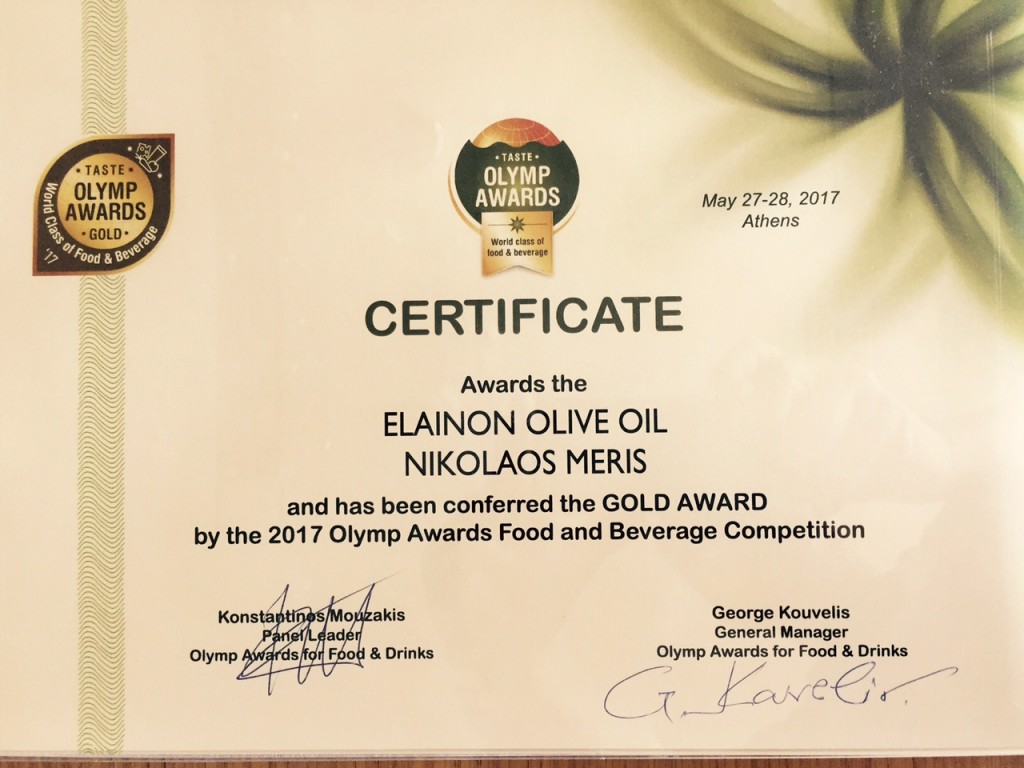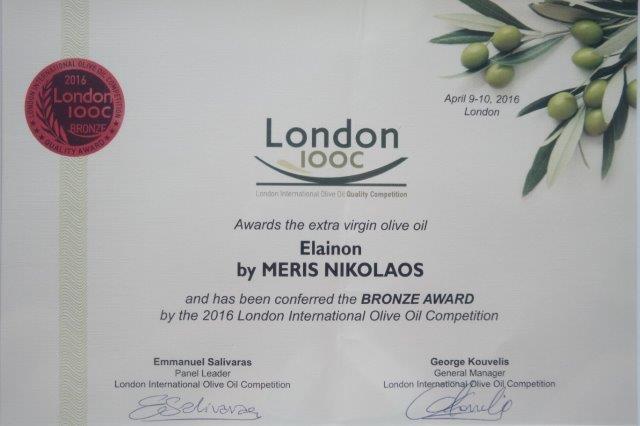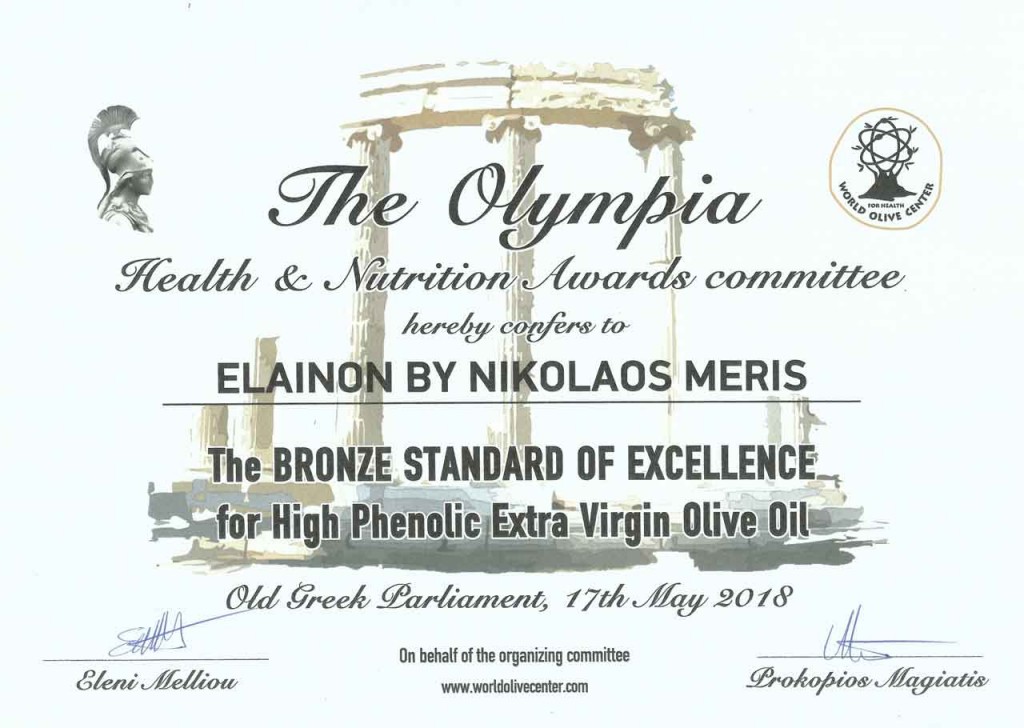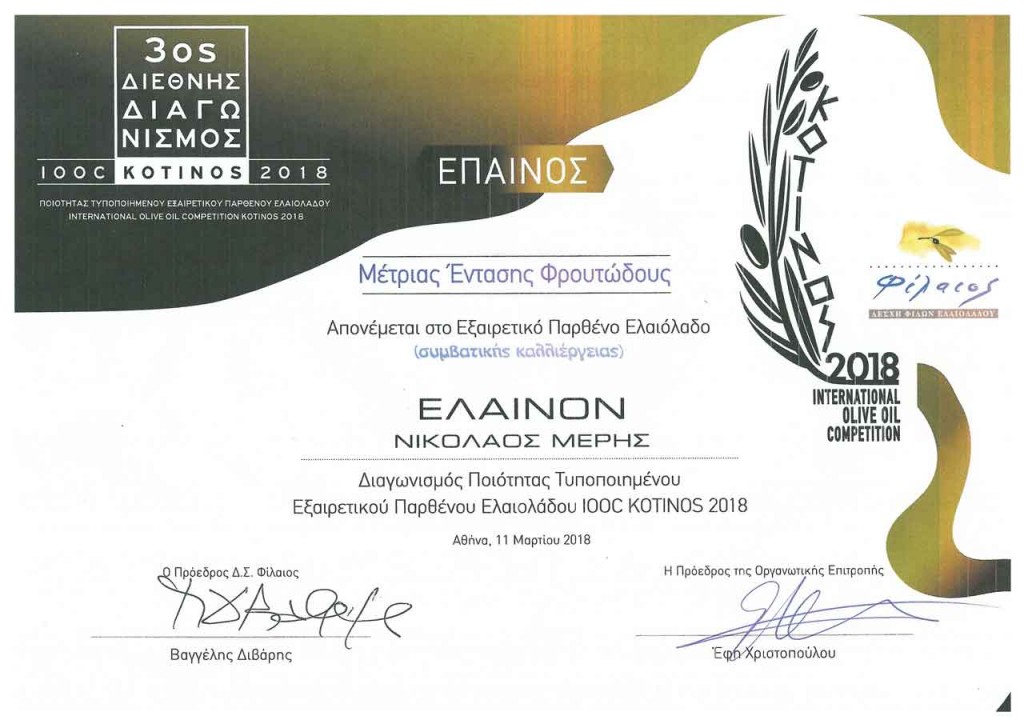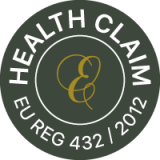 HEALTH CLAIM – E.U. Reg. 432/2012
Contains olive oil polyphenols. Olive oil polyphenols contribute to the protection of blood lipids from oxidative stress. The beneficial effect is obtained with a daily intake of 20 g of olive oil in the context of a balanced and varied diet and a healthy lifestyle.
Elainon contains 5 mg of hydroxytyrosol and its derivatives per 20g of olive oil.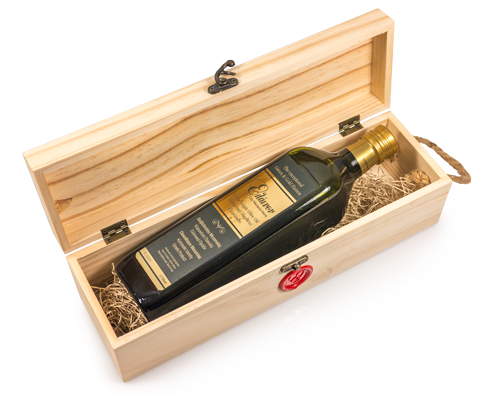 Produced by: Nikolaos Meris
Olive Oil Standardization Services
25 Marathonos Ave, 15344 Gerakas (Stavros) Greece
Τel.: +30 694 4513 828
e-mail:info@elainon.gr
merisnikos@gmail.com
www.elainon.gr